Where to Workout in Austin's Mueller Neighborhood
Are you looking for the best place to workout in Mueller?
There are tons of great options to find the right fitness routine for you. And after living in Mueller for nearly five years, I've tried my fair share of options.
What works for me, may not be the best fit for you. But you've got to try to find out, right?
Today I'm sharing everything you need to know about my three favorite fitness studios or programs in Austin's Mueller neighborhood.
Top Three Gyms and Fitness Programs in Mueller
1. Camp Gladiator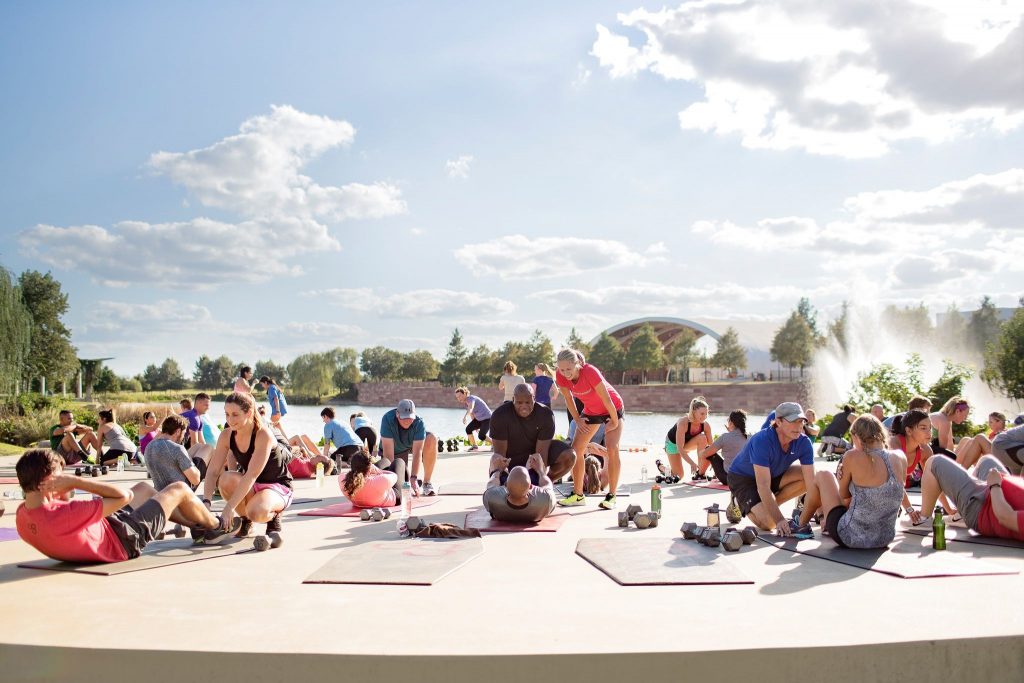 Voted the Best Exercise Class in Austin two years running by the Austin Chronicle, Camp Gladiator is the king of outdoor boot-camp-style workouts in Austin.
Camp Gladiator offers fun and challenging full-body strength and cardio workouts. Each week, classes focus on a rotation of endurance, strength and agility, intervals, and, finally, "peak week" workouts.
Camp Gladiator Mueller meets every day at Mueller Lake Park. This allows you to take advantage of the Mueller neighborhood's beautiful parks and trails for its workouts as opposed to being stuck in a stuffy gym. to take advantage of the Mueller neighborhood's beautiful parks and trails for its workouts. Most workouts take place at the Mueller Hangar, with a few classes in the Mueller Lake Park North Field.
Both are conveniently located by Mueller Lake Park and accessible via Aldrich Street and Simond Avenue.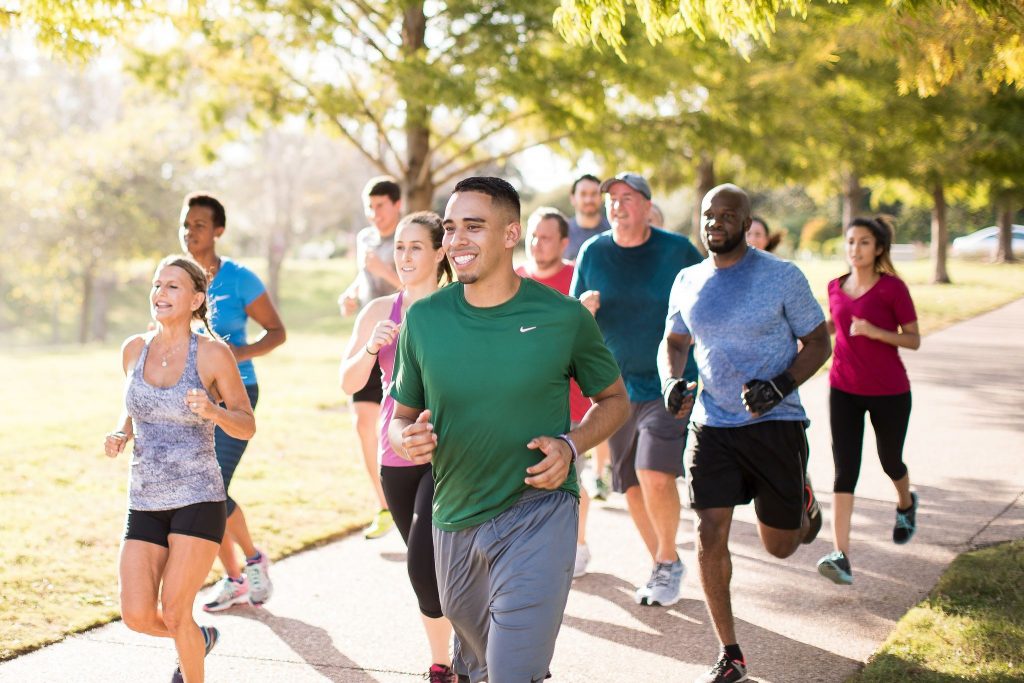 As a former member, I have to say Camp Gladiator offers the most affordable, flexible and effective workout I've found in Austin. Pricing is highly competitive, your membership gets you access to all Camp Gladiator locations, coaches and time slots, and the personal trainers know what they're doing. It was the perfect program to get fit for my wedding in 2017.
And I have to add, Camp Gladiator Mueller is led by Joey Kelly, one of the most personable and upbeat trainers I've ever worked with. If you're looking for motivation – Joey's your guy!
COVID-19 Policies
Camp Gladiator's workouts have always been outdoors, but that doesn't mean it's business as usual for the program.
First, they've launched a number of new health and safety policies to help keep members healthy and prevent the spread of COVID-19 during workouts.
And, they've launched an all-new virtual workout program that gives you access to over 1,500 live workout options you can do from home.
2. Orangetheory Mueller
Orangetheory is known nationwide for its measurable, hour-long total-body workouts.
There are a few different class types, but usually you can expect your Orangetheory workout to include a block on the treadmill, a block on the rower, and a series of body-weight and strength exercises. Throughout the class, your heart rate monitor tells you how hard you're working out so that you can measure your workouts and compare actual numbers between classes.
Orangetheory Mueller is located below the Alamo Drafthouse on Aldrich Street, directly across from Mueller Business District's Alpha Building.
It's hard not to find a time that works for you; the Mueller location offers weekday workouts as early as 5 a.m. for the early birds and as late as 7 p.m. for those who prefer to stop in after work. The studio also offers classes on weekend mornings and early afternoons.
If you live or work in Mueller, the location makes it easy to walk to your workout. Or the studio will validate for parking in the attached garage.
I was a member of Orangetheory Mueller for about a year until COVID-19 policies caused gyms to close. And I, a proclaimed treadmill-hater, loved the workouts. In fact, the treadmill was often my favorite part.
COVID-19 Policies
Orangetheory has lots of options for members (and non-members) during COVID-19.
Orangetheory Mueller is one of over 900 Orangetheory locations that have reopened their doors. The studio is offering both indoor and outdoor workouts, with masks required for all in-studio workouts.
Considering visiting the studio? Learn more about the Orangetheory's Health and Safety Policies, or read what other members have to say about What to Expect During Your First Class Back at Orangetheory.

For those who aren't ready to return to the studio, both members and non-members can access free daily At HomeTM workouts online.
3. Barre3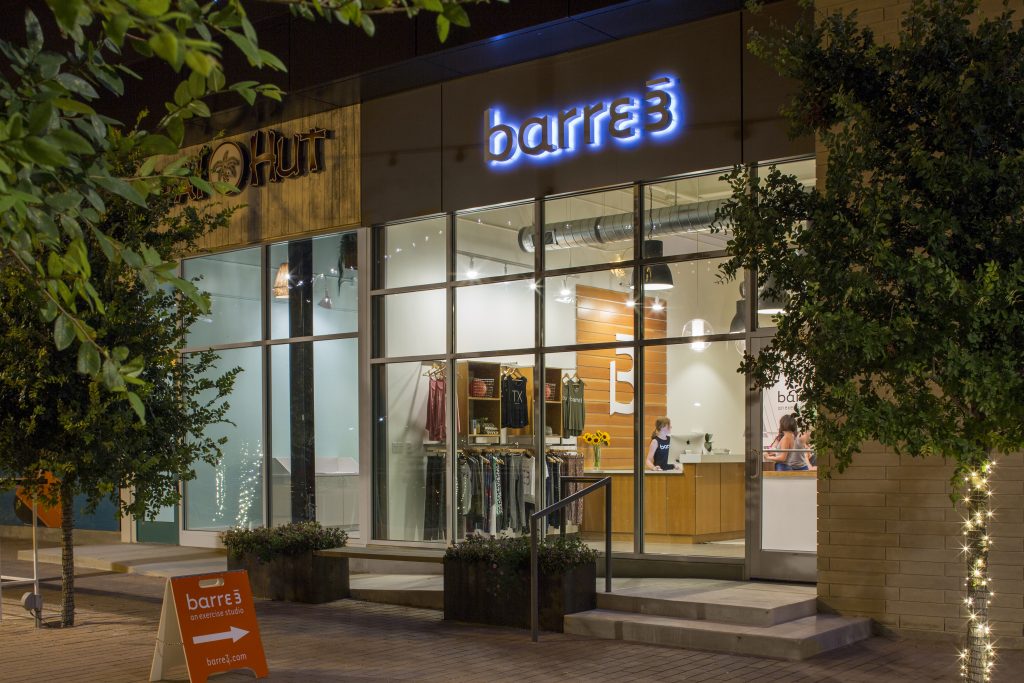 Barre3 offers full-body balanced workouts that combine strength conditioning, cardio and mindfulness. The program has over 160 studios nationwide and offers an online-workout platform.
Barre3's barre-style workouts focus on both strength and cardio as well as breathwork and mindfulness during your workout.
Barre3's Austin-Mueller studio is located on Aldrich Street, just below the Alamo Drafthouse and across from the Alpha Building.
You can walk, bike or drive to your workout. Bike racks are available out front, and parking in District Garage is validated for up to two hours.
Class times vary day-to-day, but morning and evening classes are available.
COVID-19 Policies
There are lots of ways to workout with Barre3 during COVID-19.
Their signature online program is currently offering a 15-day free trial for those who want to work up a sweat at home.
For studio members, the Barre3 Austin Mueller studio is currently offering three types of classes: live stream, outdoor and in-studio (with local mask policies enforced).
Hopefully, you've found a few new programs to try out. If you're still looking for other options, check out one of Mueller's yoga studios (Ashtanga Yoga or Yoga East), consider scheduling a private session at TrainLifeFit, or just go for a walk or a jog around Mueller's parks and trails.