Halcyon: Mueller's Best Coffee Bar
Before the widespread outbreak of COVID-19, I was on a mission to find the best restaurants in Austin's Mueller neighborhood. Now that restaurants are reopening, I'm sharing a few spots I visited earlier in the year.
Halcyon opened its dining room and patio in May following the governer's reopening plan.
In February, I ventured out on my own to try Halcyon in Mueller's Aldrich Street District on a beautiful Saturday morning. I came armed with a new book on my iPad, ready to enjoy a casual brunch. When I arrived it was bustling with people. Some were catching brunch with their friends, others were waiting in line to grab a to-go order.
Right away, I loved that there were tons of seating options. Tables for groups of all sizes, couches, outdoor seating and a bar where you can watch the coffee (and cocktails) be made.
I decided to sit at the bar, so I wouldn't take up a whole table to myself at such a busy time. When the hostess seated me she told me it was a perfect spot between two of Halcyon's regulars. Most of the people seated at the bar were working on their laptops, completely enveloped in their work. I made a note to return here sometimes with my laptop and a clear mind – this is the perfect environment for working away from the office or delving into a passion project.
When I originally decided to go to Halcyon, I planned on coming for an early brunch and exploring their many breakfast items. But, life got in the way, and I got there a little later than I had expected. Good news – Halcyon offers a select number of breakfast items all day!
Before ordering, I explored the drink menu. A coffee shop by day and cocktail bar by night, Halcyon offers a long list of coffees, seasonal cocktails, beer, wine, and even coffee cocktails! There is something for everyone. Not much of a coffee drinker, and looking for something more adventurous than a mimosa, I opted for one of their specialty coffee cocktails – the Voodoo Lady. It is served hot or cold (I opted for cold) with your choice of milk mixed with rum, coffee liqueur and chai. If you've read my other restaurant reviews, you know I am a whiskey fan so this was a leap of faith for me, but I definitely made the right choice.
The Voodoo Lady is my favorite drink I have had in Austin, since moving here a year ago.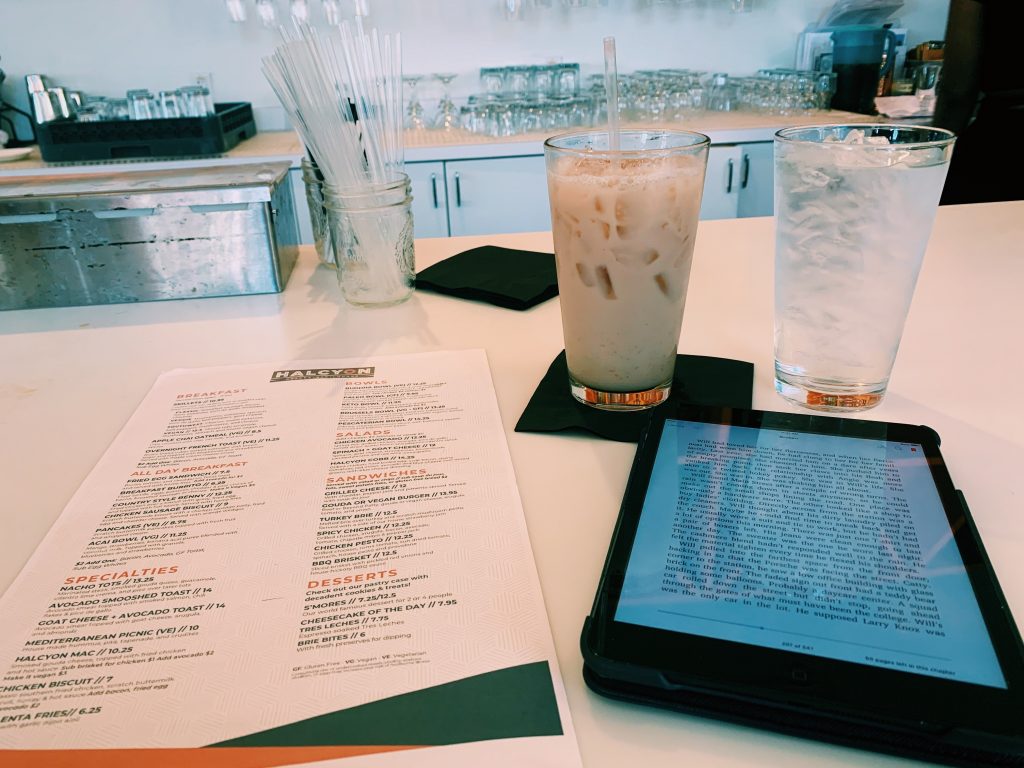 More than just a destination for drinks, Halcyon offers a full menu with a lot of delicious options. From breakfast and bowls, to salads and sandwiches, they have something for everyone.
I opted for classic pancakes. Already getting my fill of sugar from my coffee cocktail, I skipped out on the whipped cream and berries. The pancakes were perfectly light and fluffy, and the maple syrup added the perfect amount of flavor.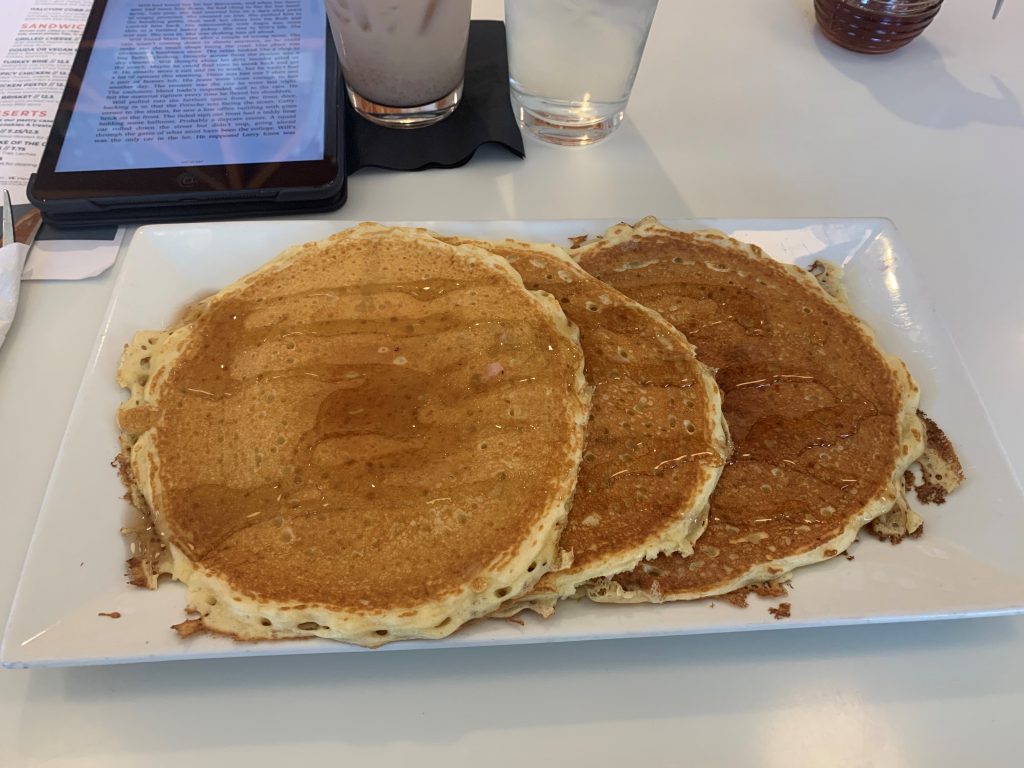 My favorite part about this restaurant was the relaxed atmosphere. While it was a bit noisy in the restaurant, it wasn't anything too distracting.
At Halcyon, there is a sense of community and it is a place where anyone can come whether they want to work, hang out with friends, or in my case – read a good book.
If you're looking for a relaxing brunch or just a place to work and grab a coffee, I highly recommend Halcyon. This would be a great place to run to for a reenergizing lunch break or to grab a delicious coffee as you head into work.
Check out some of Mueller's other great restaurants:
Contigo: Austin's Best Patio for Dinner & Drinks
Colleen's Kitchen: Your Home Away From Home
Gino's Vino Osteria: Mueller's Most Authentic Italian Restaurant