Contigo: Austin's Best Patio for Dinner & Drinks
Since I moved to Austin, I've been on a quest to find Austin's best burger – so when a coworker said Contigo was her favorite, I decided to give it a try myself. On my boyfriend, Ian, and I's Saturday date night we decided to try Contigo for dinner before catching a movie at the Alamo Drafthouse.
On most nice days, Contigo has a beautiful outdoor area for eating, playing and drinking, and the large garage doors that line the restaurant are raised to let in the fresh air and allow for an open-air dining experience. You can frequently find cute pups lounging tableside, children on the patio, and families, couples and large gatherings of friends dining under the cafe lights. Ultimately, it's a great place to hang out.
Upon arrival, Contigo instantly has an inviting atmosphere with soft lighting that radiates from the restaurant and into the parking lot. Because it was a cold January day, the outdoor seating was tented and heated. So instead of a patio spot, we took a seat in the cozy bar area. The large garage doors, which typically keep the restaurant open and invite the outdoor air in, were kept shut to keep the warm air in.
We started out with cocktails. I'm a big Jack Daniel's fan so I ordered the "Not On My Ranch" – a mix of Jack Daniel's, spiced pear, lemon allspice and angostura bitters (the bitters were the strongest flavor). I enjoyed the drink, but next time I plan to try something more adventurous from their cocktail menu.
Ian ordered the Frozen Painkiller, which was a combination of Plantation Dark Rum, pineapple, orange and lemon. This drink is incredible. It's sweet and goes down so smoothly. Basically a dessert in the form of a cocktail. I highly recommend this drink! And bonus – it is included in their happy hour specials Monday through Friday from 5:00 to 6:30 p.m.
If liquor isn't your drink of choice, they also have a nice wine and beer selection featuring a number of local beers.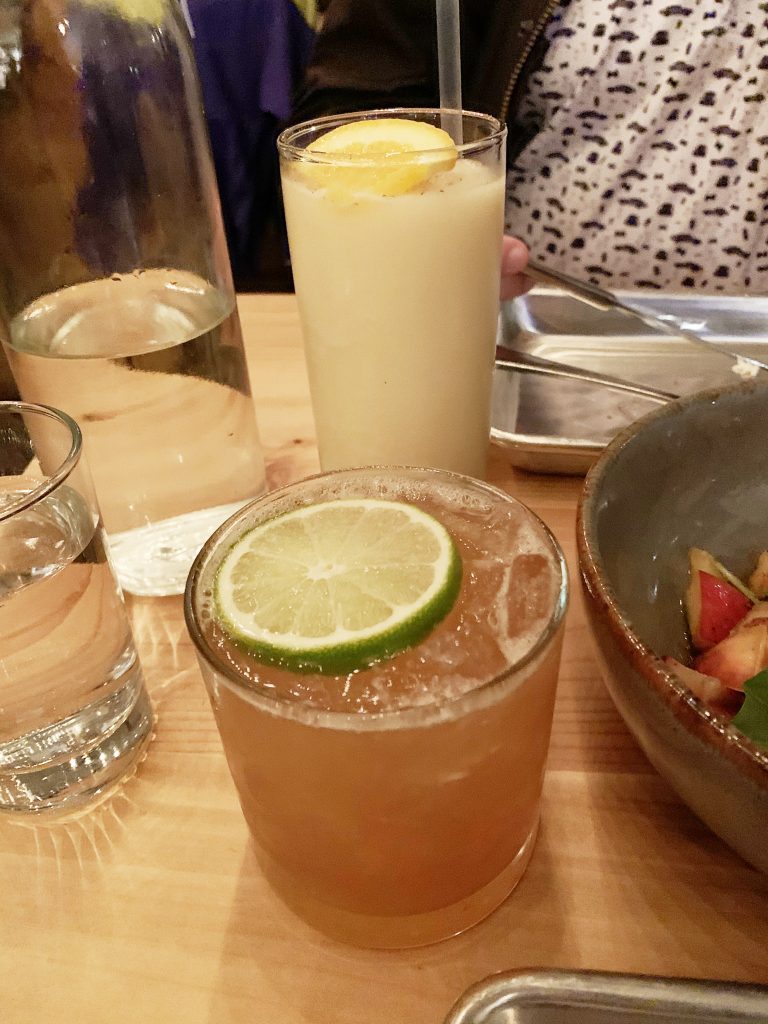 For an appetizer, we ordered the burrata. This came with seasonal fruit and veggies as well as grilled ciabatta. The burrata was amazing and went together perfectly with the toasted ciabatta bread. The apples that were included in ours were a fantastic addition.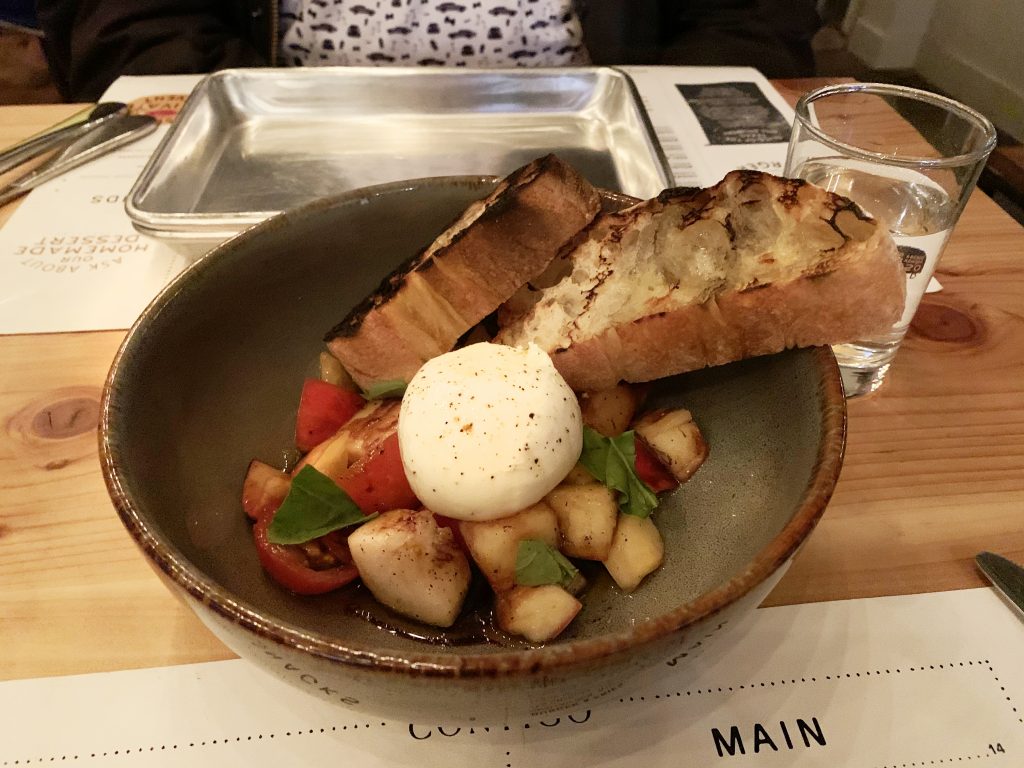 I ordered the burger which had Windy Bar Ranch Beef, a challah bun, all the veggies on the side so you can dress it to your liking, and a side of fries. You can also customize your burger by adding cheddar, blue cheese or bacon. I opted to add the cheddar cheese and some ketchup.
The beef was tasty, juicy and the perfect size. The challah bun brought the flavor of the burger together with a perfect texture and a hint of sweetness. The fries were some of the best I have ever had. They were a perfect balance between soft and crunchy, lightly salted, and just downright delicious with the burger. They were so good that Ian kept stealing them off my plate.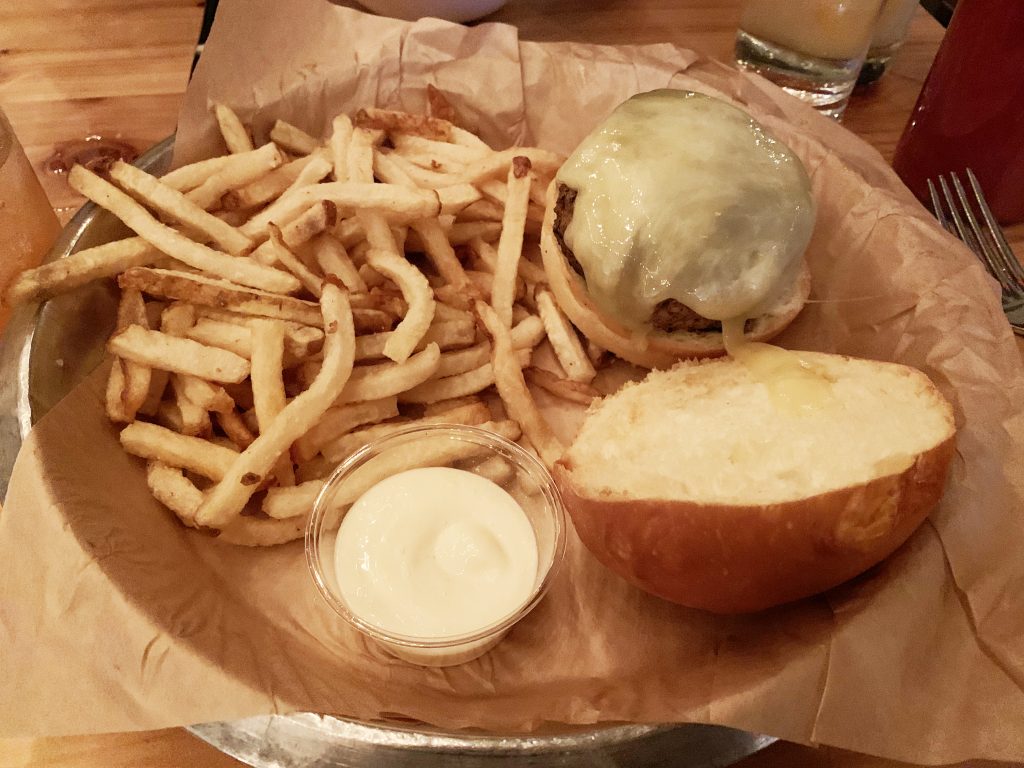 Ian chose to order a healthier option – the gulf catch. This fish was served atop cannellini beans, charred leeks, tomato and extra virgin olive oil. The fish was perfectly flakey and the beans, leeks and tomatoes complemented it nicely. This main dish was the perfect size when paired with an appetizer like the burrata.
Read Now: 5 Best Date Night Spots in Austin's Mueller Neighborhood
Overall, we really enjoyed our visit to Contigo. The food and the vibes were exciting, and the staff was incredibly friendly. One thing we really loved about Contigo was the relaxed atmosphere. There were some people dressed for date night, some in athleisure and others in complete costumes. Everyone is welcome here. We want to return when the weather is nice for brunch or lunch so we can really experience all that its outdoor area has to offer.
Looking for something else? Check out these other delicious Mueller restaurants:
Colleen's Kitchen: Your Home Away From Home
Gino's Vino Osteria: Mueller's Most Authentic Italian Restaurant
Featured image photo courtesy of Joshua Bousel.