Mueller's Annual Aldrich Street Fair
At the end of September, the Mueller Business District team had the opportunity to take part in Mueller's annual Aldrich Street Fair. This is one of many community events that the Mueller community plans regularly.
We enjoyed meeting and talking to so many different people who live in Mueller. And we loved seeing them get creative in our GIF photo booth (these are too good not to share)!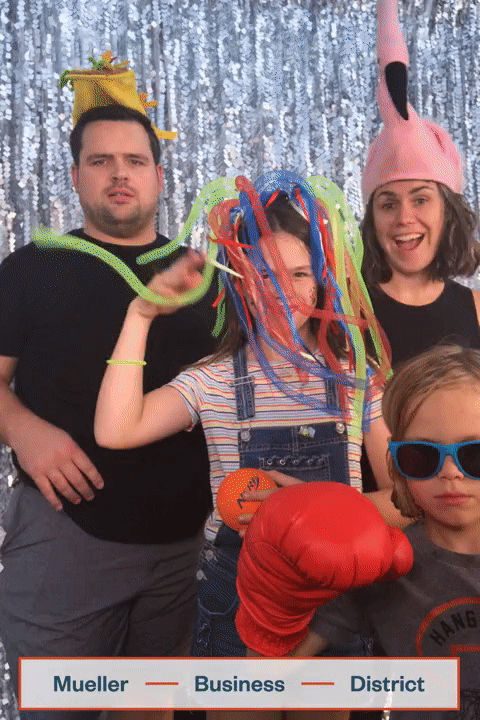 While chatting with people, we asked them what they love about living in Mueller. Here is what some of them said:
"I just really like coming here as a one-stop-shop."
From restaurants like Colleen's Kitchen and fun entertainment at the Alamo Drafthouse to parks and museums, Mueller really does have it all.
"I love that it's like a little haven within the city. It's part of the city, but it feels like you're somewhere else and it feels like a little bit more of a unique experience or a little bit more glamorous."
Mueller is "a little haven" within Austin. You get all the perks of living in a big city without the headaches of downtown traffic or overcrowding.
"It's easy access to other parts of the city and traffic in Austin, as we know, is pretty terrible so having easy access to things is definitely a plus."
"I really like the community base here. I feel like it's an open invitation for anyone to come by."
Mueller is a place where people feel like they are truly a part of the community. Like the Aldrich Street Fair, the neighborhood frequently offers engaging events such as the weekly farmers market, free concerts and movies in the park, community garage sales and more! These types of initiatives bring the neighborhood together and get everyone to meet new people and try new things.
"The farmer's market I really enjoy because they also have events going on… So you can make candles, you can pick up produce… what I love about it is there's a lot to do, it's a little weird so if you're down with it, come on by."
Thanks for stopping by and letting us get to know our neighbors!